Featured Artists:
<< back >>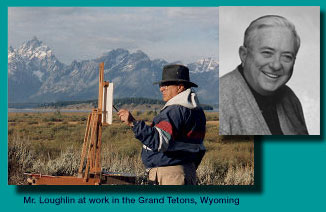 John Loughlin



Location: Lincoln, RI


Phone: 401-428-8949


Email: eloughlin@cox.net


Website: http://www.johnloughlin.com/



John Loughlin AWS, 1931–2004

John Loughlin was a New England Artist whose work included both oil paintings and watercolors, and also he enjoyed a fine reputation for his drawings and fine art prints. Specializing in capturing the natural beauty of the New England countryside, this Rhode Island artist's work can be found in many corporate and private collections in New England and nationally. Mr. Loughlin was winner of many awards in regional and national exhibits, among them a Medal of Honor for oil painting, and a top award for drawing and including most recently election to the prestigious American Watercolor Society. Mr. Loughlin was an Artist -Member of the American Watercolor Society, the Providence Art Club (life-member), The Guild of Boston Artists, Allied Artists, The Rockport Art Association, The Rhode Island Watercolor Society and the New England Watercolor Society, among others. He is also listed in Davenport's Art & Reference price guide.




PO Box 2190 - St. James, NY 11780 - 631.862.2808 - 1.800.981.2808
©2023 Artpix Studio