Featured Artists:
<< back >>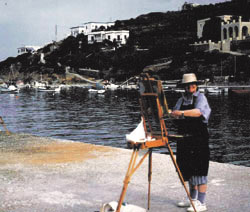 Linda Davison



Location: Manhasset, NY


Phone: 516-365-5019


Email: lindadavison@yahoo.com



Ms. Linda Davison has pursued a lifelong interest in painting and drawing. After earning a BS degree in Art from Nazareth College she received a Certificate in Art Appraisal from New York University. Linda's dedication to the Impressionist tradition began in earnest while attending the Cape Cod School of Art in Provincetown, MA. Linda's work in oils, watercolor and pastel are focused on the effects of color and light. She is an exceptional colorist with a unique style. Linda is inspired by the natural world and uses forms and colors as a point of departure for works that glow with intensity. She travels extensively to paint au plein air and attends workshops to study her craft. Her art works receive awards and are in many public and private collections.




PO Box 2190 - St. James, NY 11780 - 631.862.2808 - 1.800.981.2808
©2022 Artpix Studio