Featured Artists:
<< back >>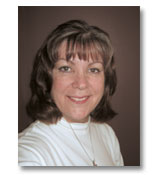 Barbara DeWaard



Location: Dwight, IL.


Phone: 815-768-6515



Barbara DeWaard has an Associate Degree in Advertising Art and Design from the State University of New York, at Farmingdale. She worked at Conde Nast Publications' House and Garden, Glamour, and Mademoiselle, and Hearst Magazines' Redbook until relocating to Illinois in 1985. Initially working in oils and acrylics, she has used colored pencil almost exclusively for more than ten years. Now a resident of Dwight, IL, Barbara was commissioned for the ''Scenes Of Dwight'' limited edition prints in 1997; and a 34'' x 48'' rendering of Dwight's Country Mansion in 1999. She has also completed numerous portraits of individuals, pets and home sites. Barbara's style is realistic, achieving detail and depth through careful layering of color, combining on-site impressions with interpretations of her photographs to achieve the final composition.

Artist's Statement: My inspiration comes from scenes of everyday life - a small, wooded creek, a field, an old barn, or a neighbor's porch. My technique involves multiple layers of colored pencil to create patterns of light, shadow, color, and texture for a realistic depiction of the subject. It gives me great personal satisfaction to work and complete a painting that envokes an emotional reaction of nostalgia and contentment - a sense of wanting to be there.




PO Box 2190 - St. James, NY 11780 - 631.862.2808 - 1.800.981.2808
©2022 Artpix Studio